3 Benefits Of Using Mgbeke's Refreshing Tea Face Mist Toner
There are many skincare routines that different people keep up with depending on their skin type, tone, and complexion. But, no matter what your routine is, having an excellent toner is an essential part of staying radiant and beautiful that you cannot skip.
What Are Facial Toners, And What Do They Do?
A facial toner is an essential part of your skincare routine as it is something you use before applying any moisturizer or serum on your face after washing it.
Toners work like moisturizers because they can protect your skin by filtering out the minerals and chlorine present in the tap water that most people use to wash their faces. Toners also help decrease environmental impurities, toxins, and contaminants that enter your skin by tightening the cell gaps and closing skin pore after cleansing.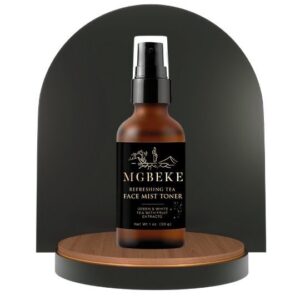 So, Why Should You Settle For Mgbeke's Refreshing Tea Face Mist Toner?
When selecting a facial toner, your preferred product should act as an extra agent of cleaning for your face, but it should also have other benefits to offer your skin. Here are a few benefits of using our mist toner below.
(1) When you use our Refreshing Tea Face, Mist Toner, you'll experience a spray of natural freshness and luxury that is soothing and 100% herbal and organic. Our green and white tea base combined with a blend of fruit extracts and aloe leaf juice create antioxidant-rich water to provide premium skin nourishment.
(2) Our complex of essential amino acids provides youth-boosting moisture, which helps tone, hydrate, and soften your skin.
(3) Made with ingredients such as Niacinamide and Mandelic Acid, our toner helps to brighten your skin appearance and even your skin complexion. When used on clean skin, it helps to reduce dryness and the appearance of redness, making it a great makeup primer spray or as a skin refresher throughout the day.
Hence, it is also nicknamed "On the Go" by countless people that have used it and continue to use and recommend it also. Just Spray And Glow!
The other key ingredients in this unique and 100% organic product include Vitamin B3, Green and White Tea, Aloe, and Cucumis Melon extract. All these and more are specially put together in the toner to provide a hydrating and antioxidant-rich toning spray that:
– Moisturizes and softens dehydrated skin
– Helps even the appearance of skin tone & discoloration
– Soothes skin & helps with the appearance of fine lines and wrinkles
For more information on how you can get this beautiful product for yourself and how to use it when you make the purchase as well, kindly visit our website or click on this link below: