Want to advertise your brand, products, and services on Mgbeke, and also find out how to be a part of our daily motivational & inspirational productions?
Do you also want to promote your events and showcase yourself to the world via our premium platforms? See the rates below for our different adverts, promotions, and sponsorship packages: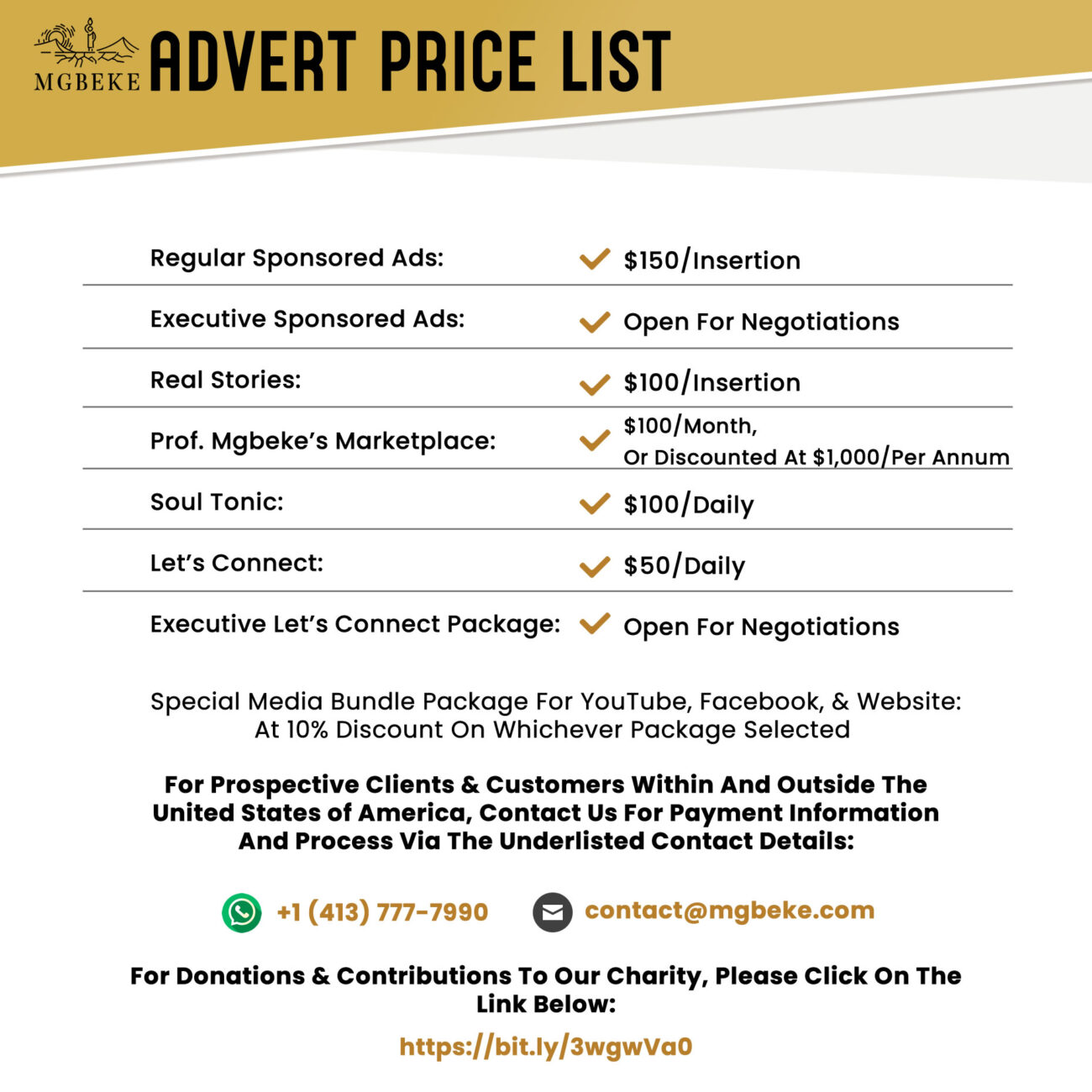 Regular Sponsored Ads:
$150/Insertion
Reach out to the world and share your promoted posts, articles, and ads here with maximum exposure guaranteed daily.
Executive Sponsored Ads:
Open For Negotiation
Executive posts may require Prof. Mgbeke or her team to be physically present during your events and conferences or to even produce and package your interviews and ads for you. This comes with a promise of premium exposure across all our social and digital platforms, which assures you of quality mileage as well.
Real Stories:
$100/Insertion
Get to share your truth and tell your intriguing and remarkable stories without any inhibitions, and a guarantee of unlimited exposure on our website and any other selected social media platforms.
Prof. Mgbeke's Marketplace
$100/Month, Or Discounted At $1,000/Per Annum
Enjoy the vast connections our platform offers and showcase, promote, and market yourself to the world in your style and at your pace too.
Soul Tonic:
$100/Daily
Be a part of our unique mission to inspire, motivate, and encourage people not to quit and stay strong to the end by sponsoring our daily writings, audio and visual productions
Let's Connect:
$50/Insertion
Advertise and promote your events, products, brand, and services here, and be rest assured that it will get even more mileage and exposure than your token could cover.
Executive Let's Connect Package:
Open For Negotiations
Special occasions require an executive package, and our team can be on-hand to make your day as memorable as ever. This package entitles you to premium exposure across all our social and digital platforms, and guaranteed mileage for your brand.


+1 (413) 777-7990
Email: contact@mgbeke.com
For Donations & Contributions To Our Charity, Please Click On The Link Below: