Vigor Biotin Boost Hair Serum My hair is looking fuller and richer, healthier since I started using Vigor. Thank Dan for the recommendation
Age-defying Wrinkle Recovery Serum I used to have some wrinkles and they were a source of concern until I used this product during the lockdown. I'm losing the wrinkles baby…
Soaps First day! The Barley mint soap smells clean and fresh. Left my skin so clean and not tight.
Mysecret Multi-collagen Peptides Powder Mysecret collagen does all it says it does and much more. I feel so fresh and so new.
Testimonial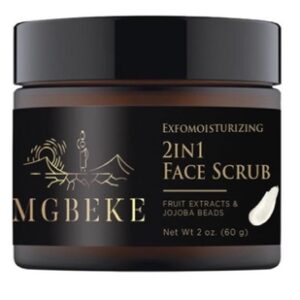 Wow, the Mgbeke exfomoisturizing 2 in 1 scrub is amazing, it opens the pores and takes off the dead skin. And for the orange rosemary bar soap, it rejuvenated my skin and gave me a very soft spotless skin. Mgbeke to the world. Now I have found natural skincare products free from toxins for me and my household.
Testimonial I love the overnight detox cream. It restored my damaged skin caused by a product I used to treat my acne.
Odogwu Beard Oil "Game Changer" My beard hasn't looked better and I know I've tried a lot of products in the market before this. Thumbs up